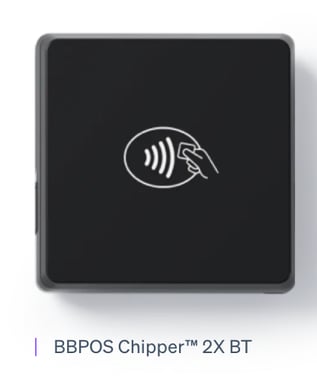 The BBPOS Chipper connects to your Samsung tablet or phone via Bluetooth and can be used as far away from the connected tablet or phone as the Bluetooth signal will allow. This can be as little as 15 feet (if the two devices are separated by a concrete wall, for example) to much, much further if there are no obstacles in between them.
Note: you will need a Samsung tablet or phone device to utilize this chipper. We recommend ordering this tablet for best results.
Step 1:
Turn your Samsung tablet on and connect it to your Wi-Fi network following the steps given in the tablet packaging.
Step 2:
Download the Scratchpay application from the Google Play store at https://play.google.com/store/apps/details?id=com.scratchpay.checkout&hl=en_US&gl=US
Step 3:
Once your reader is charged and within range, select "Discover Readers" in the Scratchpay application.
Step 4:
Select "Connect Reader" on your tablet. You'll see confirmation in the upper right corner once your reader is connected.
*One important note: The BBPOS Chipper 2X BT will disconnect from your tablet if it's out of range or out of battery. To simulate an unexpected disconnect during testing, power off the reader.