To set up your integration, please check out either our video walkthrough or written instructions below:
Thrive Pet Healthcare & Rarebreed practices: please skip directly to Step 3 or 0:55 at the video
Sign up for a Scratch Pay payment processing account here.
Create a Vetspire API key and email us the token:

To create the API key token: log in to Vetspire, select More at the top of the screen, then select Admin (labeled 1 in image below). Then, select API Keys (labeled 2 in the image below). Last, select Create New API Keys on the upper right (labeled 3 below) and label your key "Scratch-Pay."
Copy the token and paste it into an email to partners@scratchpay.com with the subject line "[Your Practice Name] - Vetspire integration." Scratch will notify you via email (from partners@scratchpay.com) when you are ready to proceed to Step 3. Please allow 2 business days for account set-up.

Log in to your Scratch account and connect your card reader terminal

Log in to your Scratch Pay web portal using the email and password you created in Step 1. If you are a Thrive Pet Healthcare clinic, you will receive your login information via email.
Follow the instructions for registering and connecting your new WisePOS card reader terminals here.

To order a card reader terminal, click here.

Turn on Payments:

NOTE: You must be an Admin in Vetspire to complete this function
Go to the Admin option up top, then select "Payment Processors" under Integrations, and then select the 4 options and toggle them on for the ones in the screenshot below:

Take a payment directly from Vetspire

From Vetspire, open the invoice for which you would like to take payment. Select payment method Charge with Stripe Terminal, select the name of your desired Terminal, and hit the blue Checkout button:
The payment amount will now display on your WisePOS card reader terminal! Run your client's payment method directly on your terminal. We accept Apple Pay, Google Pay, Visa, Mastercard, AMEX, and more!

Once paid, the Vetspire invoice updates automatically as Paid - no need to reconcile the payment with Vetspire later!

Sample invoice below, showing a successful payment!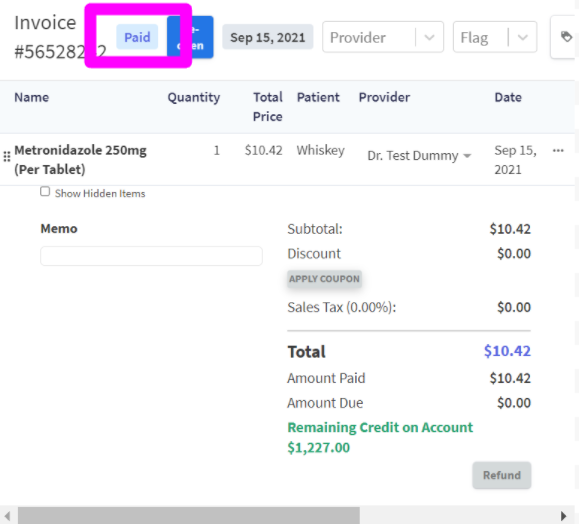 Questions? Email us at partners@scratchpay.com